Welcome to the Home Free Wiki!
This is the Wikia dedicated to the country a capella group Home Free; created and kept by Home Fries.
History
Home Free was first formed in 2000 in Mankato Minnesota by Chris Rupp, with the original members being Chris and Adam Rupp, Matt Atwood, Darren Scruggs, and Dan Lemke, and the name 'Home Free' was taken from a boat owned by Atwood's Grandfather.
It started out as a hobby, but by 2007 they were able to pursue it full-time: touring around the US playing fairs, festivals and cruises, and releasing albums.
Members came and went, current member Rob Lundquist joining in 2008. The group originally sang a wide variety of styles, but it wasn't until after Tim Foust and Austin Brown joined (2012 and 2013 respectively) that they adopted the country sound which got them through the auditions for the fourth season of The Sing Off on NBC in 2013.
Home Free competed and won in The Sing Off, earning the group $100,000 and a recording contract with Sony.
In 2016, after releasing three albums and several singles since the Sing Off, Chris left the group, and Adam Chance was chosen to fill his roll as baritone. Read more
Members
Former Members
| Chris Rupp | Matt Atwood | Darren Scruggs | Elliott Robinson | Dan Lemke | Troy Horne | Matthew Tuey | Joe Fine | Chris Foss | Joe Kent |
| --- | --- | --- | --- | --- | --- | --- | --- | --- | --- |
| | | | | | | | | | |
Albums
Latest activity
Photos and videos are a great way to add visuals to your wiki. Find videos about your topic by exploring Fandom's Video Library.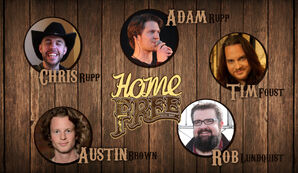 Community content is available under
CC-BY-SA
unless otherwise noted.